Pengembangan Media Pembelajaran Interaktif Matematika Berbasis Web Articulate Storyline untuk Meningkatkan Minat Belajar Siswa SMP
Keywords:
Articulate Storyline, Matematika, media pembelajaran, minat belajar, pengembangan
Abstract
The minimal use of learning media and less attractive conventional methods harm students' interest in mathematics. Therefore, researchers developed interactive learning media based on WEB Articulate Storyline to stimulate students' interest in learning mathematics. This study uses the ADDIE (Analysis, Design, Development, Implementation, Evaluation) developmental research model. Observation, questionnaires, and documentation are the data collection techniques used. Quantitative descriptive analysis is the data analysis technique used. The study results show that the developed learning media is highly valid, as evident from the assessment results by subject matter experts, obtaining an average percentage of 90%, and media experts, obtaining an average percentage of 96.25%. Additionally, the developed media has proven to be very practical, based on the assessment results by teachers, obtaining an average percentage of 91.67%, and student assessments, obtaining an average percentage of 84.95%. Articulate Storyline media has been proven effective in increasing students' interest in learning, as seen from the N-Gain test results obtaining a value of 0.651, which falls into the moderate category. Based on the results of this study, the developed Articulate Storyline learning media is highly appropriate and practical for implementation in mathematics education. It effectively enhances students' interest in learning mathematics.
Downloads
Download data is not yet available.
References
Andriyani. (2021). Peningkatan Hasil Belajar IPA Siswa SMPN 1 Parigi Utara Melalui Model Pembelajaran PBL. Jurnal Profesi Kependidikan, 2, 49–56.
Asih, & Imami. (2021). Analisis Minat Belajar Siswa SMP pada Pembelajaran Matematika. JPMI (Jurnal Pembelajaran Matematika Inovatif), 4(4), 799-808
Fitriani. (2022). Pengembangan Media Pembelajaran Interaktif Menggunakan Articulate Storyline Terhadap Minat Belajar Matematika Siswa Kelas XI SMA. GAMMA NC.
Hasan, M., Milawati, Darodjat, Khairani, H., & Tahrim, T. (2021). Media Pembelajaran. In Tahta Media Group.
Hasibuan, N. H., Gusmania, Y., & Rahman, S. (2022). Efektivitas Pengembangan Media Pembelajaran Komik Berbasis Kodular untuk Kemampuan Pemahaman Literasi Matematika Siswa SDS Edustar. Jurnal Absis: Jurnal Pendidikan Matematika dan Matematika, 4(2), 501–510. https://doi.org/ 10.30606/absis.v4i2.1218
Indriani, S. M., Artika, W. I., & Ningtias, W. R. D. (2021). Penggunaan Aplikasi Articulate Storyline Dalam Pembelajaran Mandiri Teks Negosiasi. Jurnal Pendidikan Bahasa Dan Sastra Indonesia, 11(1), 25–36.
Kadarisma, G., Rosyana, T., & Nurjaman, A. (2019). Pengaruh Minat Belajar Terhadap Kemampuan Penalaran Matematik Siswa SMP. Jurnal Absis, 2(1), 121–128.
Kurnia, R. (2022). Analisis Kelayakan Media Pembelajaran Berbasis Elektronik Untuk Pembelajaran Anak Usia Dini. Prosiding Seminar Nasional PGPAUD UPI Kampus Purwakarta, 1(1), 288–292.
Muammar, M., & Suhartina, S. (2018). Media Pembelajaran Berbasis Teknologi Informasi dalam Meningkatkan Minat Belajar Akidah Akhlak. KURIOSITAS: Media Komunikasi Sosial Dan Keagamaan, 11(2), 176–188. https://doi.org/10.35905/kur.v11i2.728
Prastowo, A. (2018). Sumber belajar dan pusat sumber belajar: Teori dan Aplikasinya di Sekolah/Madrasah. Kencana.
Purcaru, M & Voinea, M. (2014). Boosting Romanian Students' Interest in Learning Mathematics Through the Contructivist Approach. Procedia: Social and Behavioral Sciences, 108-113.
Rakhmat, A. T., & Hidayat, T. (2022). Landasan Pedagogik Pendidikan Agama Islam Di Sekolah. Taklim: Jurnal Pendidikan Agama Islam, 20(1), 13–31.
Ratnasari, I. W. (2017). Hubungan Minat Belajar Terhadap Prestasi Belajar Matematika. Psikoborneo: Jurnal Ilmiah Psikologi, 5(2), 289–293. https://doi.org/10.30872/psikoborneo.v5i2.4377
Rivalina, R., & Siahaan, S. (2020). Pemanfaatan Tik Dalam Pembelajaran: Kearahpembelajaran Berpusat Pada Peserta Didik; Utilization of ICT in Learning: Toward Student-centered Learning. Jurnal TEKNODIK, 24(1), 71–85.
Safira, A. D., Sarifah, I., & Sekaringtyas, T. (2021). Pengembangan Media Pembelajaran Interaktif Berbasis Web Articulate Storyline Pada Pembelajaran Ipa Di Kelas V Sekolah Dasar. Prima Magistra: Jurnal Ilmiah Kependidikan, 2(2), 237–253. https://doi.org/10.37478/jpm.v2i2.1109
Sista, T. R. (2017). Implementasi Manajemen Kurikulum Dalam Meningkatkan Mutu Pendidikan. Educan : Jurnal Pendidikan Islam, 1(1). https://doi.org/ 10.21111/educan.v1i1.1288
Sugiyono. (2019). Metode Penelitian Kuantitatif, Kualitatif, dan R&D. Bandung: Alfabeta.
Suryana. (2020). Permasalahan Mutu Pendidikan Dalam Perspektif Pembangunan Pendidikan. Edukasi, 2(1), 1–12.
Yadrika, G., Amelia, S., & Roza, Y. (2019). Analisis Kesalahan Siswa SMP dalam Menyelesaikan Soalpada Materi Teorema Pythagoras dan Lingkaran. Jppm, 12(2), 195–212.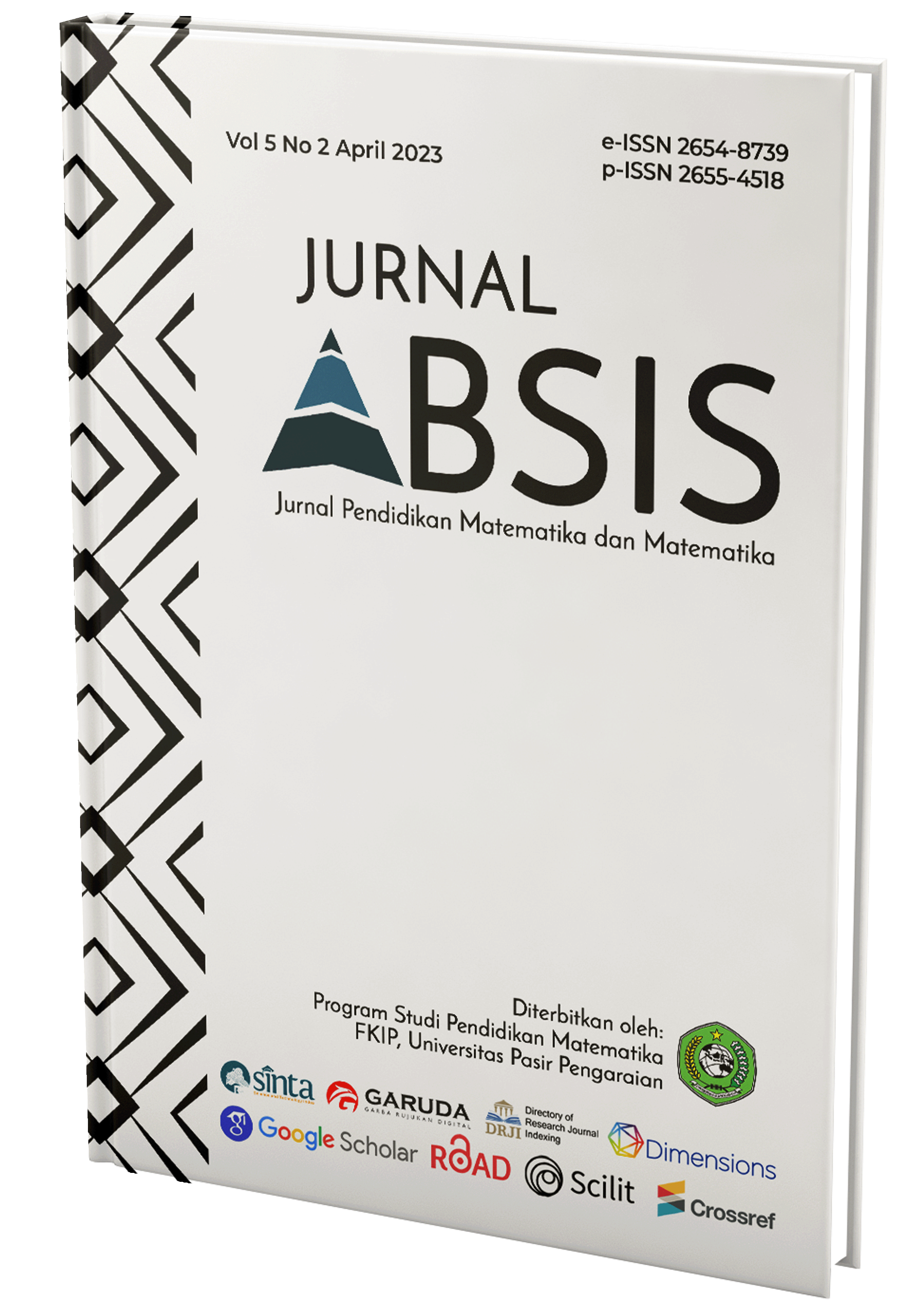 Downloads
How to Cite
Rahmania, M. D., Fatah, A. ., & Anriani, N. (2023). Pengembangan Media Pembelajaran Interaktif Matematika Berbasis Web Articulate Storyline untuk Meningkatkan Minat Belajar Siswa SMP. Jurnal Absis: Jurnal Pendidikan Matematika Dan Matematika, 5(2), 653–665. https://doi.org/10.30606/absis.v5i2.1777