Deskripsi Kemampuan Penalaran Matematis Siswa SMK pada Materi Fungsi Komposisi dan Invers
Keywords:
Mathematical Reasoning Ability, indicators, functional material
Abstract
ABSTRACT
This research aims to provide an overview of the mathematical reasoning abilities of Vocational High School Students on the material of compositional and inverse functions. This research was descriptive qualitative research conducted at SMK Negeri 3 Kuningan in the academic year 2021/2022 in class XI. Samples were taken from as many as 29 students. The data in this research are the results of mathematical reasoning tests. The results of this research show that there are 6.9% of students have reasoning abilities which are included in the very good category, 31.03% of students are included in the good category, 20.7% of students are included in the good category, 31.03% of the students are included in the good category. Less than 10.34% of students fall into the very poor category. The average combined reasoning is 47.84% in the medium category. This research also obtained the most difficult reasoning indicator, namely finding patterns or characteristics of mathematical phenomena for generalization.
Downloads
Download data is not yet available.
References
Gustiadi, A., Agustyaningrum, N., & Hanggara, Y. (2021). Analisis Kemampuan Penalaran Matematis Siswa dalam Menyelesaikan Soal Materi Dimensi Tiga. Jurnal Absis: Jurnal Pendidikan Matematika Dan Matematika, 4(1), 337–348. https://doi.org/10.30606/absis.v4i1.894.
Hendriana, dkk. (2017). Hard Skills Dan Soft Skills Matematik Siswa. Bandung: Refika Aditama.
Hidayati, A., & Widodo, S. (2015). Proses Penalaran Matematis Siswa Dalam Memecahkan Masalah Matematika Pada Materi Pokok Dimensi Tiga Berdasarkan Kemampuan Siswa Di Sma Negeri 5 Kediri. Jurnal Math Educator Nusantara: Wahana Publikasi Karya Tulis Ilmiah Di Bidang Pendidikan Matematika, 1(2), 1 – 13.
Kemendikbud. (2013). Handout Pelatihan Kurikulum 2013. Jakarta: Kemendikbud
Kusumawardhani, D.R., Wardono, Kartono. (2018). Pentingnya Penalaran Matematika dalam Meningkatkan Kemampuan Literasi Matematika. Prosiding Seminar Nasional Matematika (PRISMA) Universitas Negeri Semarang. https://journal.unnes.ac.id/sju/index.php/prisma/
Meicahyati. (2018). Meningkatkan Kemampuan Penalaran Matematik Siswa SMP Menggunakan Pendekatan Problem Possing Melalui Pembelajaran Kooperatif Tipe Jigsaw. Jurnal Cendekia: Jurnal Pendidikan Matematika. Vol 2. No 2. Hal 1-10.
Melin, K. (2015). Profil Kemampuan Penalaran Siswa Dalam Memecahkan Masalah Soal Cerita Barisan dan Deret Aritmatika di Kelas X SMA Negeri 2 Palu. Jurnal Pendidikan Matematika. Universitas Tadulako. Vol 4. No 2. Hal 178-188.
Permendikbud. (2016). Peraturan MenteriPendidikan Dan Kebudayaan Nomor 21 Tahun 2016 Tentang Standar IsiPendidikan Dasar Dan Menengah.
Permendiknas. (2006). Standar Isi Untuk Satuan Pendidikan Dasar dan Menengah. Jakarta: BSNP
Setiawati, T., Muhtadi, D., Rosaliana, D. 2019. Kemampuan Penalaran Matematis Siswa Pada Soal Aplikasi. Prosiding Seminar Nasional &Call For Papers Program Studi Magister Pendidikan Matematika Universitas Siliwangi Tasikmalaya, 19 Januari 2019.
Sugiyono, S. (2016). Metode Penelitian Pendidikan; Pendekatan kuantitatif, Kualitatif,dan R&D. Bandung: Alfabeta.
Sulistiawati, S., Suryadi, D., & Fatimah, S. (2015). Desain Didaktis Penalaran Matematis untuk Mengatasi Kesulitan Belajar Siswa SMP pada Luas dan Volume Limas. Kreano, Jurnal Matematika Kreatif-Inovatif, 6(2), 135-146.
Wan, S. P., & Li, D. F. (2015). Fuzzy mathematical programming approach to heterogeneous multiattribute decision making with interval-valued intuitionistic fuzzy truth degrees. Information Sciences,325(1), 484-503.
Wardhani, S. (2008). Analisis SI dan SKL Mata Pelajaran Matematika SMP/MTs untuk Optimalisasi Tujuan Mata Pelajaran Matematika. Yogyakarta: Pusat Pengembangan Dan Pemberdayaan Pendidik dan Tenaga Kependidikan Matematika.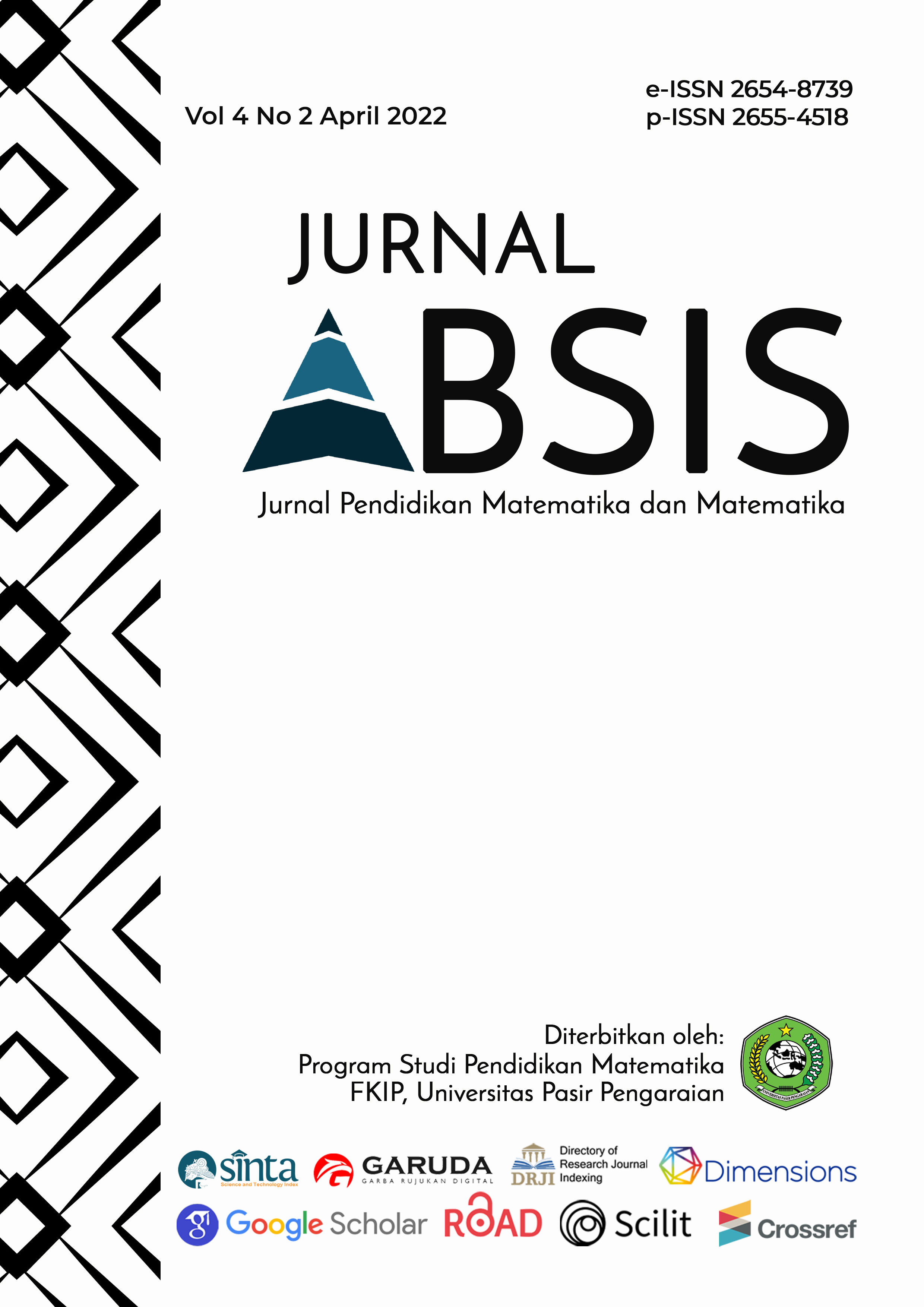 Downloads
How to Cite
Adiputra, Y., & Putri, H. E. (2022). Deskripsi Kemampuan Penalaran Matematis Siswa SMK pada Materi Fungsi Komposisi dan Invers. Jurnal Absis: Jurnal Pendidikan Matematika Dan Matematika, 4(2), 465–474. https://doi.org/10.30606/absis.v4i2.1087