STUDENTS' PERSONALITY TRAITS AND THEIR SPEAKING SKILL
Keywords:
Personality Traits, Speaking Skill.
Abstract
The purpose of this research was to determine whether there is significant correlation between students' personality traits and their speaking skill based on Big Five Personality theory: Extraversion, Agreeableness, Conscientiousness, Neuroticism and Openness (Costa and McCrae: 1999).The correlation research was needed to analyze deeply. The instruments of this research were questionnaire and speaking test. The data were analyzed with Pearson Product-Moment. The result of this researchwas personality traits and speaking skills had correlated each other. It means that the higher extraversion, agreeableness, conscientiousness, and openness are the higher speaking skill is. However, the higher neuroticism is the lower speaking skill will be.
Downloads
Download data is not yet available.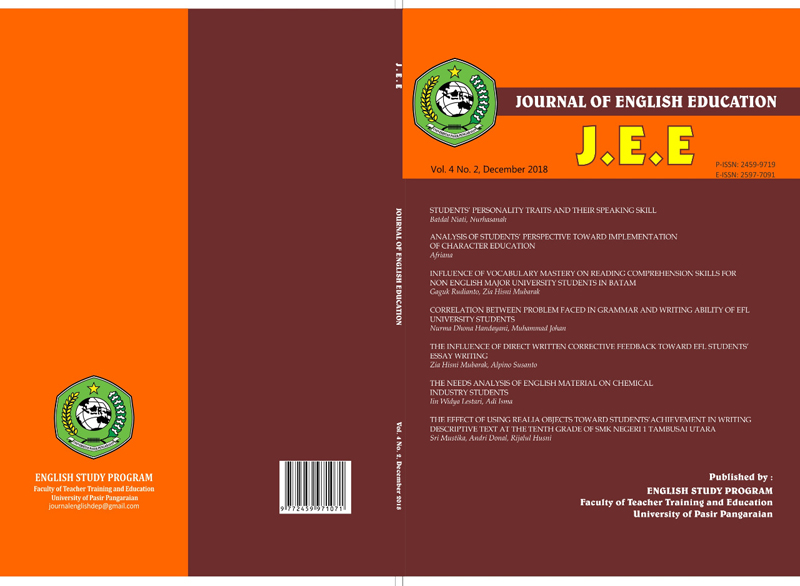 Downloads
How to Cite
Niati, B. ., & Nurhasanah. (2018). STUDENTS' PERSONALITY TRAITS AND THEIR SPEAKING SKILL. JEE (Journal of English Education), 4(2), 67–75. Retrieved from https://journal.upp.ac.id/index.php/JEE/article/view/520