FANTASTIC ANIMATION MOVIES TO AID STUDENTS'READING COMPREHENSION OF NARRATIVE TEXT
Keywords:
Animation Movies, Reading Comprehension, Narrative text
Abstract
Reading is an essential skill for senior high school students. They must accustom to read and familiar with monologue texts. One of monologue texts is narrative text. Narrative text is telling about story and animation movie also tells about story. Theoretically, animation movie can help students to comprehend text. Therefore, experimental research was needed to investigate the effectiveness of animation movies in helping students to understand narrative text. Test (essay form) was chosen as instrument. Students' scores were analyzed with paired t-test. The test result of thirty seven students of SMA Serirama YLPI showed that students' scores had improvement. Students were easier to comprehend narrative text. It means that animation movies were effective and fantastic media for teaching reading narrative text.
Downloads
Download data is not yet available.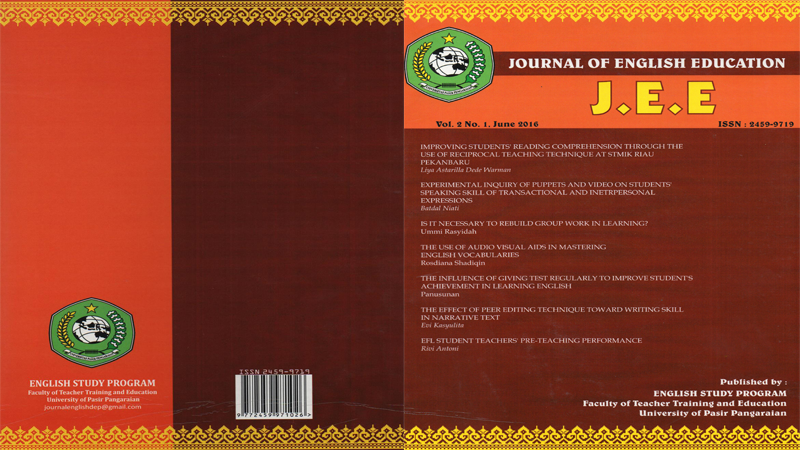 Downloads
How to Cite
Niati, B. (2016). FANTASTIC ANIMATION MOVIES TO AID STUDENTS'READING COMPREHENSION OF NARRATIVE TEXT . JEE (Journal of English Education), 2(2), 69–74. Retrieved from https://journal.upp.ac.id/index.php/JEE/article/view/448