IMPROVING STUDENTS' READING COMPREHENSION THROUGH THE USE OF RECIPROCAL TEACHING TECHNIQUE AT STMIK RIAU PEKANBARU
Keywords:
reading comprehension, reciprocal teaching, factors
Abstract
This research aimed to describe and explain to what extent Reciprocal Teaching could improve the reading comprehension of semester II/E students of STMIK Riau Pekanbaru and the factors that influenced the change of their reading comprehension through Reciprocal Teaching. This research was a classroom action research, every cycle consisted of four four fundamental aspects namely, planning , action, observation, and reflection. The participants of this research were the semester II/E students majoring in Computer Science/Informatics STMIK Riau Pekanbaru totalling 35 students. The instruments of this research were a reading comprehension test, an observation sheet, field note, and interview. There were two main findings of this research: (1) Reciprocal Teaching could improve the
students' reading comprehension; (2) Teaching material, class acitivity, class management, and lecturer's approach were the factors that could influence the change of students' reading comprehension.


Downloads
Download data is not yet available.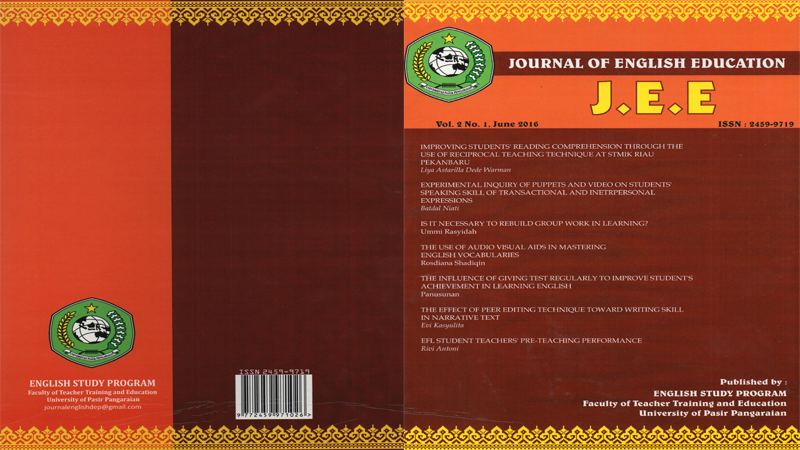 Downloads
How to Cite
ASTARILLA, L. ., & WARMAN, D. . (2016). IMPROVING STUDENTS' READING COMPREHENSION THROUGH THE USE OF RECIPROCAL TEACHING TECHNIQUE AT STMIK RIAU PEKANBARU . JEE (Journal of English Education), 2(1), 1–8. Retrieved from https://journal.upp.ac.id/index.php/JEE/article/view/437