AN ANALYSIS ON THE THIRD SEMESTER STUDENTS' SPEAKING SKILL IN DELIVERING IMPROMPTU SPEECH
Keywords:
speaking skill, impromptu speech, descriptive qualitative
Abstract
The purpose of this research was to find out how is the skill of students of University of Pasir Pengaraian especially in third semester of English Study Program in students delivering impromptu speech. This research is descriptive qualitative. The data were gotten from the students in third semester. The data were taken through Speaking Test in impromptu speech from the video and transcript of the students itself. The steps in analyzing the data are collecting the data, analyzing the data, and displaying the result of the analysis. The third semester students of English Study Program of University of Pasir Pengaraian had average level in delivering impromptu speech. 18 students (54,54%) had the average score. 14 students (42,42%) had the fair score, and 1 student had the poor (3,03%). It can be concluded that the students' skill in delivering impromptu speech was average.
Downloads
Download data is not yet available.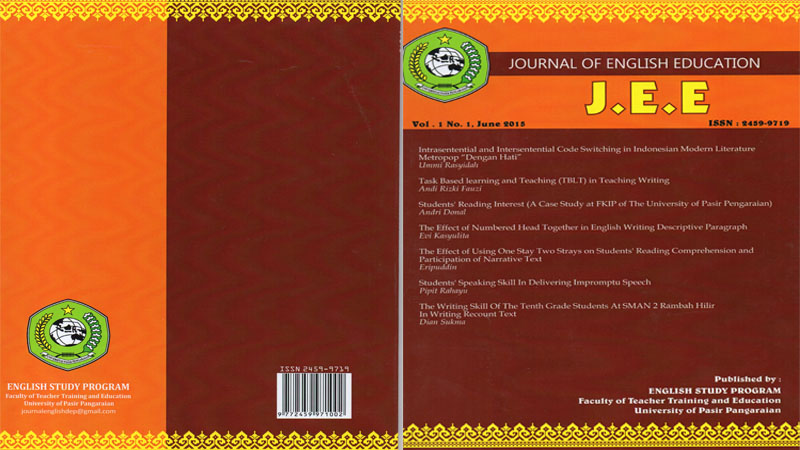 Downloads
How to Cite
Rahayu, P. (2015). AN ANALYSIS ON THE THIRD SEMESTER STUDENTS' SPEAKING SKILL IN DELIVERING IMPROMPTU SPEECH . JEE (Journal of English Education), 1(1), 55–64. Retrieved from https://journal.upp.ac.id/index.php/JEE/article/view/346