PENGARUH LATIHAN PLYOMETRIC SQUAT JUMP TERHADAP POWER OTOT TUNGKAI ATLET PUTRA BOLA VOLI PORKES UPP
plyometric squat jump, power otot tungkai
Keywords:
Plyometric (Squat Jump), Limb Muscle Power
Abstract
This research started from observations of researchers in the field who saw that the ability of the leg muscle power in the Porkes UPP Volleyball Athletes was still low. It can be seen when athletes do training in the field and the team's performance is decreasing at this time. For this reason, this study aims to determine the effect of Plyometric Squat Jump Exercise as the independent variable (X) on the Power of the Muscles of the Legs (Y). This study uses an experimental method with a One-Group Pretest-Postest Design. The population in this study was the Athletes of the Volleyball Club Putra Porkes UPP totaling 20. While the sampling technique used purposive sampling, so the number of samples consisted of 12 people aged 15-20 years. The research design used Pre-test and Post-test using the Vertical Jump test instrument. Data analysis and research hypothesis testing used independent t-test (t-test) analysis techniques with a significant level of = 0.05. The results showed that the Squat Jump Exercise had an effect on the Power of the Limb Muscles with an average score of 49 in the Pre-test increasing by 16 or 33% to 64 in the Post-test. The statistical results show that (tcount 69.73 > ttable 1.701). The conclusion of this study is that the Plyometric Squat Jump Method Exercise has an effect on the Power of the Leg Muscles in the Athletes of the Men's Club Volleyball Club of Porkes UPP.
Downloads
Download data is not yet available.
References
Syafruddin. (2013). Ilmu Kepelatihan Olahraga. Padang. UNP Press
Widiastuti. (2015). Tes dan Pengukuran Olahraga. Jakarta: Raja Grafindo Persada
Sugiyono. (2012). Metode Penelitian Pendidikan Pendekatan kuantitatif, Kualitatif dan R&D. Bandung. Alfabeta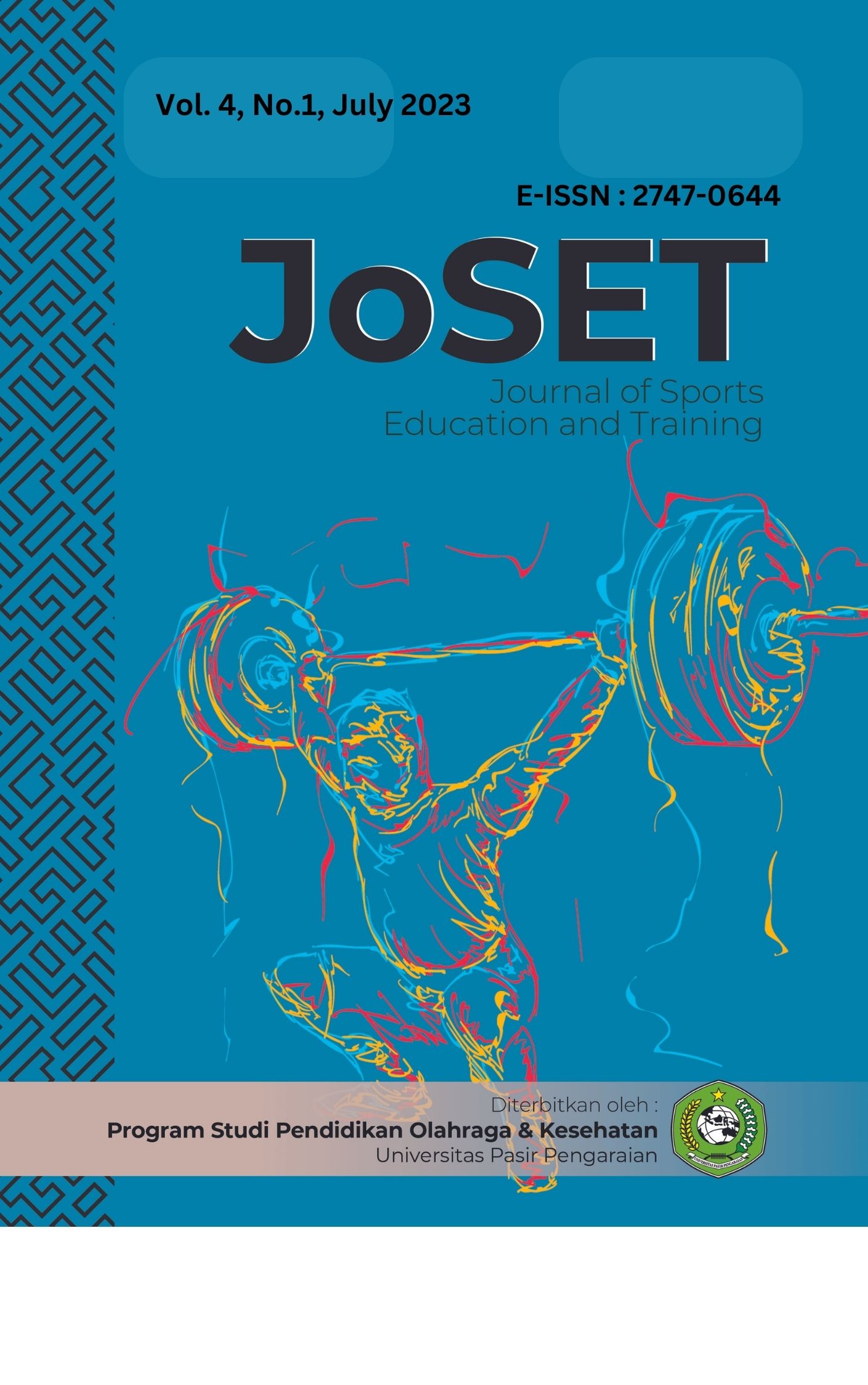 Downloads
How to Cite
Putra, R., Janiarli, M., & Putra, M. A. (2023). PENGARUH LATIHAN PLYOMETRIC SQUAT JUMP TERHADAP POWER OTOT TUNGKAI ATLET PUTRA BOLA VOLI PORKES UPP: plyometric squat jump, power otot tungkai. Journal Of Sport Education and Training, 4(1), 30–35. Retrieved from https://journal.upp.ac.id/index.php/joset/article/view/2018