Material transfer PERANCANGAN FORKLIFT MANUAL DENGAN KAPASITAS ANGKAT 200 Kg.
PERANCANGAN FORKLIFT MANUAL DENGAN KAPASITAS ANGKAT 200 Kg.
Keywords:
forklift,steel rope, pulley.
Abstract
Abstrak—Peralatan pemindah bahan atau sering disebut Material Handling Equipment(MHE) sangat dibutuhkan manusia untuk untuk mempermudah pekerjaan, terutama yang berhubungan dengan pengangkatan bahan. Peralatan tersebut dapat berupa peralatan yang digerakkan oleh engine atau dapat pula berupa peralatan sederhana yang masih mengandalkan manusia sebagai penggerak utamanya. Salah satu peralatan pemindah bahan yang sangat populer adalah forklift. Forklift dapat digunakan untuk mengangkat, menurunkan dan memindahkan bahan dari suatu tempat ke tempat yang lain. Forklift dapat digerakkan dengan menggunakan engine ataupun secara manual. Forklift manual biasanya digunakan untuk mengangkat beban yang tidak terlalu berat. Forklift manual sistem katrol yang telah dibuat ini memiliki kapasitas angkat beban maksimum seberat 200 kg dan ketinggian angkat 2 meter. Prinsip kerjanya menggunakan sistem katrol yang ditumpu oleh dua buah tiang rangka yang dihubungkan oleh tali baja dan digulung pada sebuah katrol yang ditransmisikan menggunakan tali sling dan perputaranya diatur oleh putaran engkol yang digerakkan tangan manusia. Jadi forklift manual ini sangat cocok dijadikan sebagai peralatan pemindah bahan yang efektif dan efisien.
Kata kunci : forklift, tali baja, katrol.
Abstract — Material transfer equipment or often called Material Handling Equipment (MHE) is needed by humans to facilitate work, especially those related to material removal. The equipment can be in the form of equipment that is driven by the engine or it can also be in the form of simple equipment that still relies on humans as its main driver. One of the most popular material transfer equipment is the forklift. Forklifts can be used to lift, lower and move material from one place to another. Forklifts can be driven using engines or manually. Manual forklifts are usually used to lift loads that are not too heavy. The manual forklift pulley system that has been made has a maximum lifting capacity weighing 200 kg and a lifting height of 2 meters. The principle works using a pulley system which is supported by two frame poles connected by a steel rope and rolled on a pulley that is transmitted using a sling rope and the rotation is governed by a crank rotation that is moved by a human hand. So this manual forklift is very suitable to be used as an effective and efficient material transfer equipment.

Keywords: forklift,steel rope, pulley. 
Downloads
Download data is not yet available.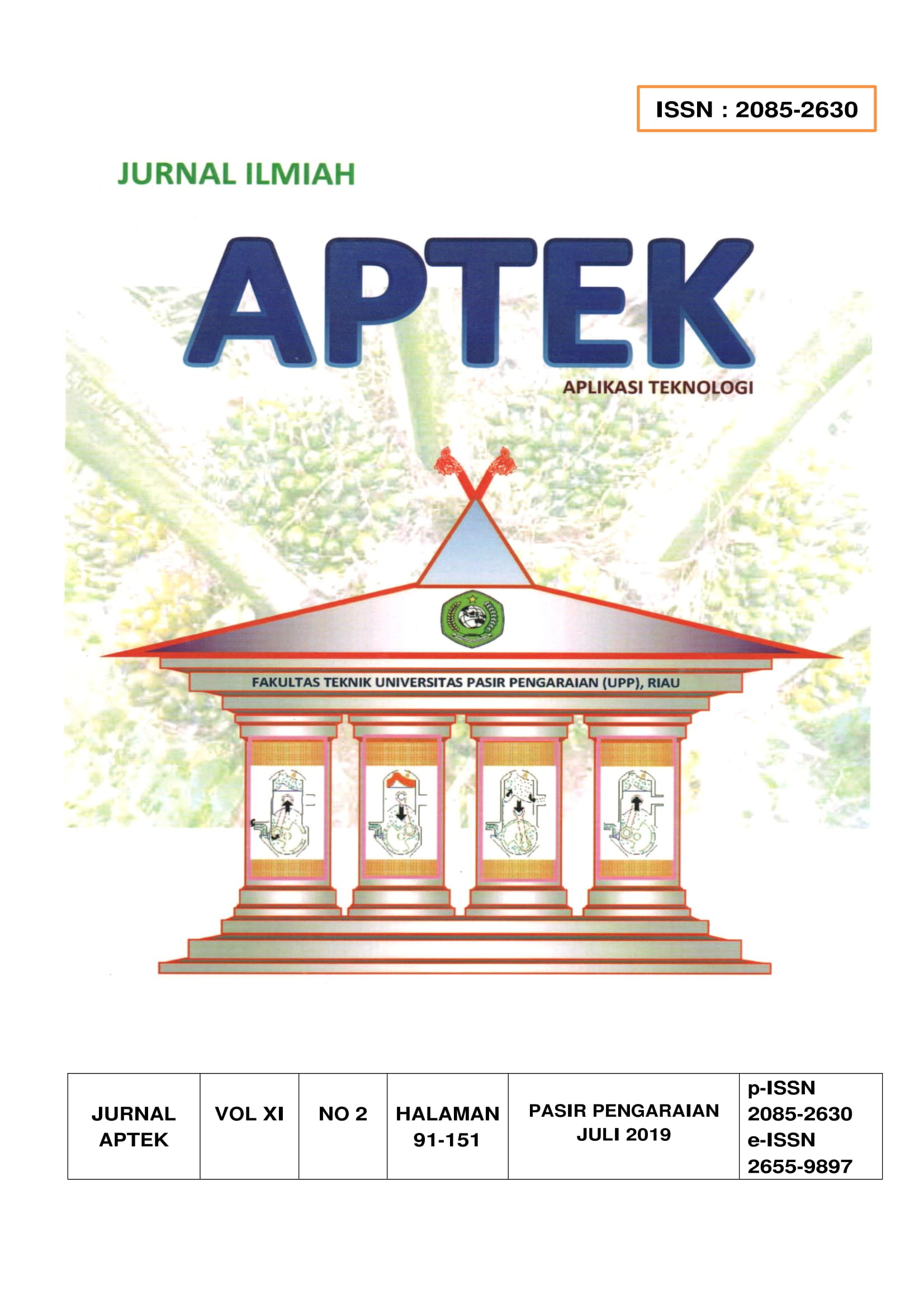 Downloads
How to Cite
Anwar, S., Suripto, H. ., & Rizal, J. . (2020). Material transfer PERANCANGAN FORKLIFT MANUAL DENGAN KAPASITAS ANGKAT 200 Kg.: PERANCANGAN FORKLIFT MANUAL DENGAN KAPASITAS ANGKAT 200 Kg. Aptek, 12(1), 32–38. https://doi.org/10.30606/aptek.v12i1.240