KETAHANAN BEBERAPA VARIETAS JAGUNG MANIS (Zea mays Saccharatasrurt) TERHADAP POPULASI GULMA RUMPUT BELULANG (Eleusine indica)
*
Keywords:
sweet corn, bones, growth and yield
Abstract
This research was conducted from May to July 2019 in Paloh Mee Village, Gandapura District, Bireuen Regency. This study aims to determine the level of resistance and the influence of the weed population on the growth and yield of sweet corn. This study used a randomized block design (RBD) with three replications. The first factor is the corn varieties, namely Bonanza F1, Golden boy and Royal 76. The second factor is the weed population, namely without weeds/ polybag, 3 weeds/ polybag, and 5 weeds/ polybag. The results of this study indicated that there was no interaction between sweet corn varieties and the initial population density of Eleusine indica on all observations. Corn varieties had a very significant effect on plant height at 3 weeks after planting (WAP), but it did not significantly affect plant height at 5 and 7 WAP, whereas weed population density did not significantly affect plant height at 3, 5 and 7 WAP. Sweet corn varieties and weed populations did not significantly affect corn cobs length. Corn variety did not affect weed dry weight, while weed population had a very significant effect on weed dry weight.
Downloads
Download data is not yet available.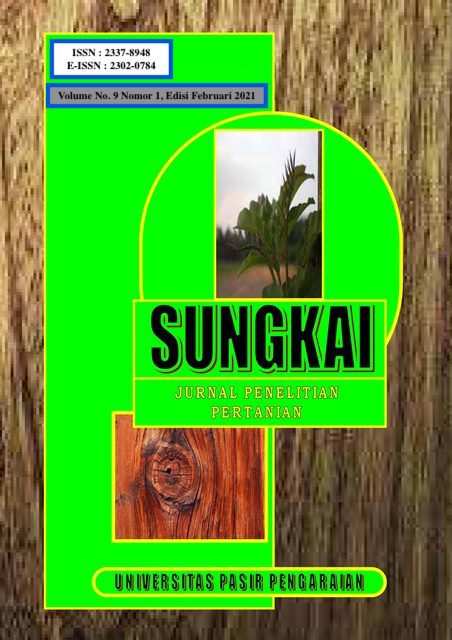 Additional Files
How to Cite
Muhammad Muaz Munauwar. (2021). KETAHANAN BEBERAPA VARIETAS JAGUNG MANIS (Zea mays Saccharatasrurt) TERHADAP POPULASI GULMA RUMPUT BELULANG (Eleusine indica): *. SUNGKAI, 9(1), 1–6. Retrieved from https://journal.upp.ac.id/index.php/sungkai/article/view/751