ANALISIS KUALITAS KOMPOS PELEPAH SAWIT TERHADAP LAMA PENGOMPOSAN DENGAN MENGGUNAKAN BIOAKTIVATOR EM4
Keywords:
Keywords: Compost, Palm Oil fronds, Bioactivator
Abstract
This research was conducted to obtain the quality of palm midrib compost with composting time using EM4 bioactivator. This research was conducted at the Faculty of Agriculture, Pasir Pengaraian University from December 2021 to February 2022. This study uses a descriptive method is a research method to create a picture of the situation of the research conducted. The sampling technique used is a random sampling technique, namely the sample is taken randomly from compost according to the composting time treatment. The composition of composting of palm fronds is: 25 kg of palm fronds + 10 kg of chicken manure + 3 kg of bran + 400 ml of EM4 + 40 lt of water + 4 kg of brown sugar, with composting time treatment: P1 (35 days), P2 (50 days), P3 (65 days). The results of the P3 composting treatment (65 days) showed the best quality of compost where the physique showed a low temperature of 290 C, low moisture content of 44.79%, blackish color and earthy odor, 33 coarse texture and 15 mesh fine texture, and showed the best compost. on chemical content with the best compost pH value 6.9, the highest total N 1.49%, the highest total P 0.55%, the highest total K 0.71%, the best C/N ratio 12.1, the best Organic C content 18.03.
Downloads
Download data is not yet available.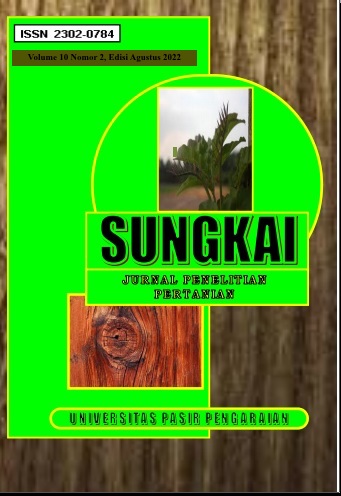 Additional Files
How to Cite
Aulia, N., Ir. Edward Bahar, M.P., Ph.D, & Khusnu Abdillah Siregar, M.P. (2022). ANALISIS KUALITAS KOMPOS PELEPAH SAWIT TERHADAP LAMA PENGOMPOSAN DENGAN MENGGUNAKAN BIOAKTIVATOR EM4. SUNGKAI, 10(2), 28–37. Retrieved from https://journal.upp.ac.id/index.php/sungkai/article/view/1340