Sistem Informasi Inventory Penjahit di Kecamatan Rambah
Keywords:
Sistem Informasi, Inventory, Penjahit, Kecamatan Rambah
Abstract
Penjahit merupakan salah satu jenis usaha yang banyak diminati oleh masyarakat khususnya di kota pasir pengaraian, kecamatan rambah, kabupaten rokan hulu. Usaha penjahit ini merupakan usaha informal yang berkembang dan  berusaha memperoleh pendapatan dari hasil jahitan, semakin banyak jahitan yang diterima maka semakin banyak perolehan upah sehingga pendapatan penjahit meningkat dan sebaliknya pendapatan menurun bila permintaan jahitan sedikit. Namun pengusaha penjahit ini memiliki beberapa kendala dalam pengelolaan bisnisnya dimana tidak adanya pencatatan modal yang dimiliki serta transaksi bisnis yang dilakukan oleh penjahit. Oleh karena itu dibutuhkan sebuah sistem informasi inventory dimana nantinya dapat mempermudah penjahit dalam melakukan pengelolaan barang dan transaksi penjualan sehingga para pengusaha penjahit di kecamatan rambah dapat mengetahui secara rinci proses bisnis yang mereka jalani.
Downloads
Download data is not yet available.
References
A. A, P. S. Ramadhan, and S. Yakub, "Sistem Pendukung Keputusan dalam Menenetukan Calon (Tailor) Penjahit di Ranhouse Medan dengan Menggunakan Metode AggregatedSum Product Assesment," J-SISKO TECH (Jurnal Teknol. Sist. Inf. dan Sist. Komput. TGD), vol. 3, no. 2, p. 12, 2020, doi: 10.53513/jsk.v3i2.2029.
D. N. Azizah and N. Nurgiyatna, "Pengembangan Sistem Inventory Barang Perusahaan Dagang berbasis Website (Studi Kasus: CV. Agung Nugraha)," Emit. J. Tek. Elektro, vol. 21, no. 1, pp. 42–48, 2021, doi: 10.23917/emitor.v21i1.13418.
H. H. Muflihin, H. Dhika, and S. Handayani, "Perancangan Sistem Informasi Inventory Pada Toko Rosadah," Bianglala Inform., vol. 8, no. 2, pp. 91–99, 2020, doi: 10.31294/bi.v8i2.8712.
B. Yanto and A. S. Putra, "Sistem Informasi Buku Tamu Front End Berbasis Android Pada Badan Pusat Statistik Rokan Hulu," J. Comput. Sci., vol. 4, no. 1, 2017.
A. F. Sallaby and I. Kanedi, "Perancangan Sistem Informasi Jadwal Dokter Menggunakan Framework Codeigniter," J. Media Infotama, vol. 16, no. 1, pp. 48–53, 2020, doi: 10.37676/jmi.v16i1.1121.
N. A. Rahmawati and A. C. Bachtiar, "Analisis dan perancangan sistem informasi perpustakaan sekolah berdasarkan kebutuhan sistem," Berk. Ilmu Perpust. dan Inf., vol. 14, no. 1, p. 76, 2018, doi: 10.22146/bip.28943.
M Teguh Prihandoyo, "Unified Modeling Language (UML) Model Untuk Pengembangan Sistem Informasi Akademik Berbasis Web," J. Inform. J. Pengemb. IT, vol. 3, no. 1, pp. 126–129, 2018.
G. F. Fitriana, "Pengujian Aplikasi Pengenalan Tulisan Tangan menggunakan Model Behaviour Use case," JATISI (Jurnal Tek. Inform. dan Sist. Informasi), vol. 7, no. 2, pp. 200–213, 2020, doi: 10.35957/jatisi.v7i2.390.
M. Syarif and W. Nugraha, "Pemodelan Diagram UML Sistem Pembayaran Tunai Pada Transaksi E-Commerce," J. Tek. Inform. Kaputama, vol. 4, no. 1, p. 70 halaman, 2020.
R. Sari and F. Hamidy, "Sistem Informasi Akuntansi Perhitungan Harga Pokok Produksi Pada Konveksi Sjm Bandar Lampung," J. Teknol. dan Sist. Inf., vol. 2, no. 1, pp. 65–73, 2021.
F. Amazon, W. Widiatry, and V. H. Pranatawijaya, "Rancang Bangun Sistem Informasi Akademik Fakultas Matematika Dan Ilmu Pengetahuan Alam Berbasis Website," J. Inf. Technol. Comput. Sci., vol. 1, no. 1, pp. 20–28, 2021, doi: 10.47111/jointecoms.v1i1.2511.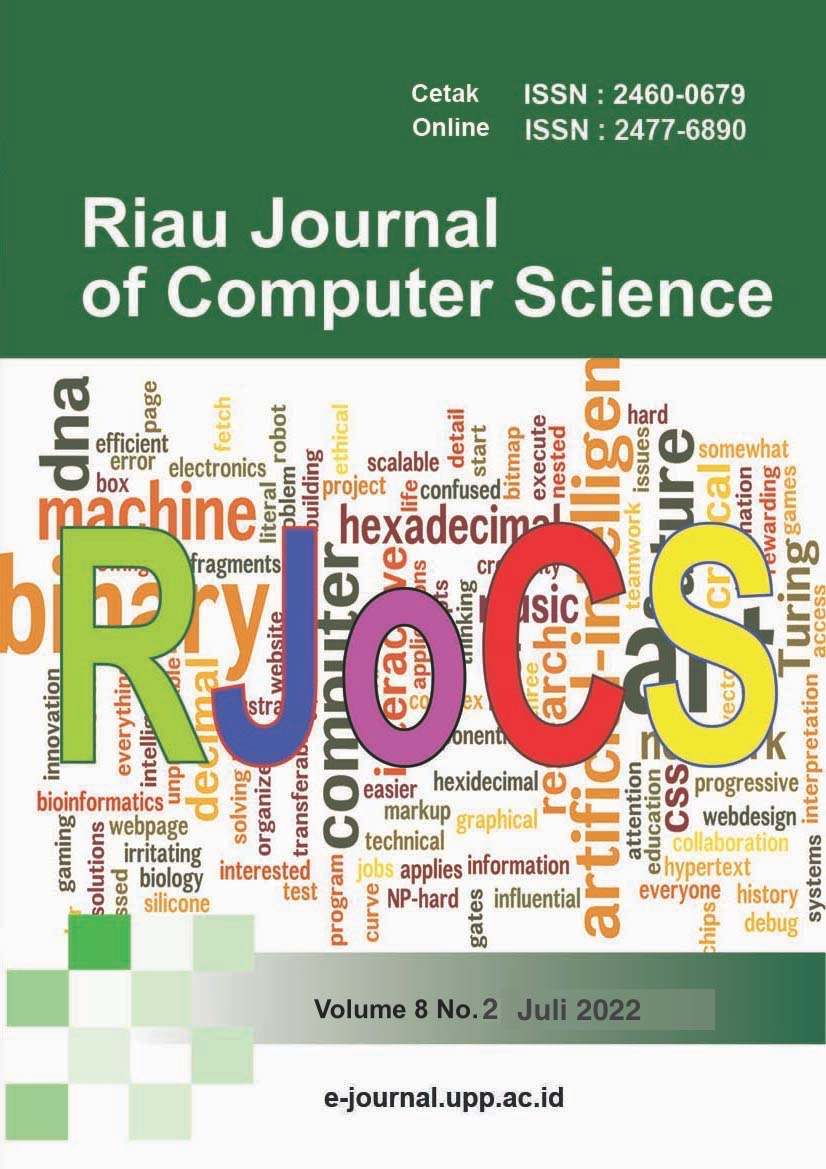 Downloads
How to Cite
[1]
K. Sabri, Afrijal, and R. Karno, "Sistem Informasi Inventory Penjahit di Kecamatan Rambah", RJOCS , vol. 8, no. 2, pp. 116–122, Jul. 2022.