IMPLEMENTASI METODE LEVENSTHEIN DISTANCE DAN COSINE SIMILARITY UNTUK DETEKSI KEMIRIPAN GAMBAR
Keywords:
Implementasi, Levensthein Distance, Cosine Similarity, Deteksi, Gambar
Abstract
Gambar adalah media visual dua dimensi di atas bidang yang tidak transparan. Sebuah gambar dapat di edit dan meniru bentuk gambar yang lain dengan menggunakan aplikasi yang tersedia secara gratis. Sehingga dapat terjadi peniruan gambar dengan aplikasi edit gambar, oleh karena itu seseorang yang mencurigai sebuah gambar hasil edit harus membandingkan dengan gambar yang asli. Masalah yang terjadi adalah seseorang yang mencari kemiripan gambar tidak dapat menghasilkan persentase yang tepat. Oleh karena itu dibutuhkan sebuah cara yang dapat mendeteksi dan menghasilkan persentase kemiripan gambar yang tepat. Penelitian ini menggunakan metode levensthein distance untuk mendeteksi dua buah gambar sehingga mendapatkan hasil persentase kemiripan pada dua buah gambar. Akan tetapi penelitian ini juga menggunakan metode cosine similarity yang akan digunakan untuk mengetahui persentase kemiripan gambar sehingga dapat mengetahui selisih kemiripan dari penggunaan dua metode pendeteksi kemiripan gambar. Dengan adanya penerapan metode levensthein distance dan cosine similarity maka mendeteksi kemiripan gambar dapat dilakukan dengan mudah.
Downloads
Download data is not yet available.
References
N. Hidayati and L. Yuliandani, "Pengaruh Beauty Vlogger, Citra Merek Dan Label Halal Terhadap Minat Beli Produk Kosmetik Wardah," JSMA (Jurnal Sains Manajemen dan Akuntansi), vol. 12, no. 1, pp. 65–76, 2020, doi: 10.37151/jsma.v12i1.50.
B. Yanto, B. -, J. -, and B. H. Hayadi, "INDENTIFIKASI POLA AKSARA ARAB MELAYU DENGAN JARINGAN SYARAF TIRUAN CONVOLUTIONAL NEURAL NETWORK (CNN)," JSAI (Journal Scientific and Applied Informatics), vol. 3, no. 3, 2020, doi: 10.36085/jsai.v3i3.1151.
I. Magdalena, A. Salsabila, A. Krianasari, D., and F. Apsarini, S., "Implementasi Model Pembelajaran Daring Pada Masa Pandemi Covid-19 Di Kelas IIII SDN Sindangsari III," Jurnal Pendidikan dan Dakwah, vol. 3, no. 1, pp. 119–128, 2020.
J. M. S. Waworundeng, "Desain Sistem Deteksi Asap dan Api Berbasis Sensor, Mikrokontroler dan IoT," CogITo Smart Journal, vol. 6, no. 1, p. 117, 2020, doi: 10.31154/cogito.v6i1.239.117-127.
A. Zouhir, R. El Ayachi, and M. Biniz, "A comparative Plagiarism Detection System methods between sentences," Journal of Physics: Conference Series, vol. 1743, no. 1, 2021, doi: 10.1088/1742-6596/1743/1/012041.
C. Adjetey and K. S. Adu-Manu, "Content-based Image Retrieval using Tesseract OCR Engine and Levenshtein Algorithm," International Journal of Advanced Computer Science and Applications, vol. 12, no. 7, pp. 666–675, 2021, doi: 10.14569/IJACSA.2021.0120776.
K. Janardhan, "Tendency to Study of the Cross Batch Redundancy Detection of Efficient Image Sharing," vol. 3, no. 10, p. 3048, 2019.
F. AZMI, A. Saleh, and N. P. Dharshinni, "Face Identification on Login Security Using Algorithm Combination of Viola-Jones and Cosine Similarity," Journal of Informatics and Telecommunication Engineering, vol. 4, no. 1, pp. 203–211, 2020, doi: 10.31289/jite.v4i1.3885.
M. S. Stupariu, A. I. Pleşoianu, I. Pǎtru-Stupariu, and C. Fürst, "A method for tree detection based on similarity with geometric shapes of 3D geospatial data," ISPRS International Journal of Geo-Information, vol. 9, no. 5, 2020, doi: 10.3390/ijgi9050298.
B. Kim et al., "Structural health monitoring with sensor data and cosine similarity for multi-damages," Sensors (Switzerland), vol. 19, no. 14, 2019, doi: 10.3390/s19143047.
S. Saha et al., "Feature selection for facial emotion recognition using cosine similarity-based harmony search algorithm," Applied Sciences (Switzerland), vol. 10, no. 8, pp. 1–22, 2020, doi: 10.3390/APP10082816.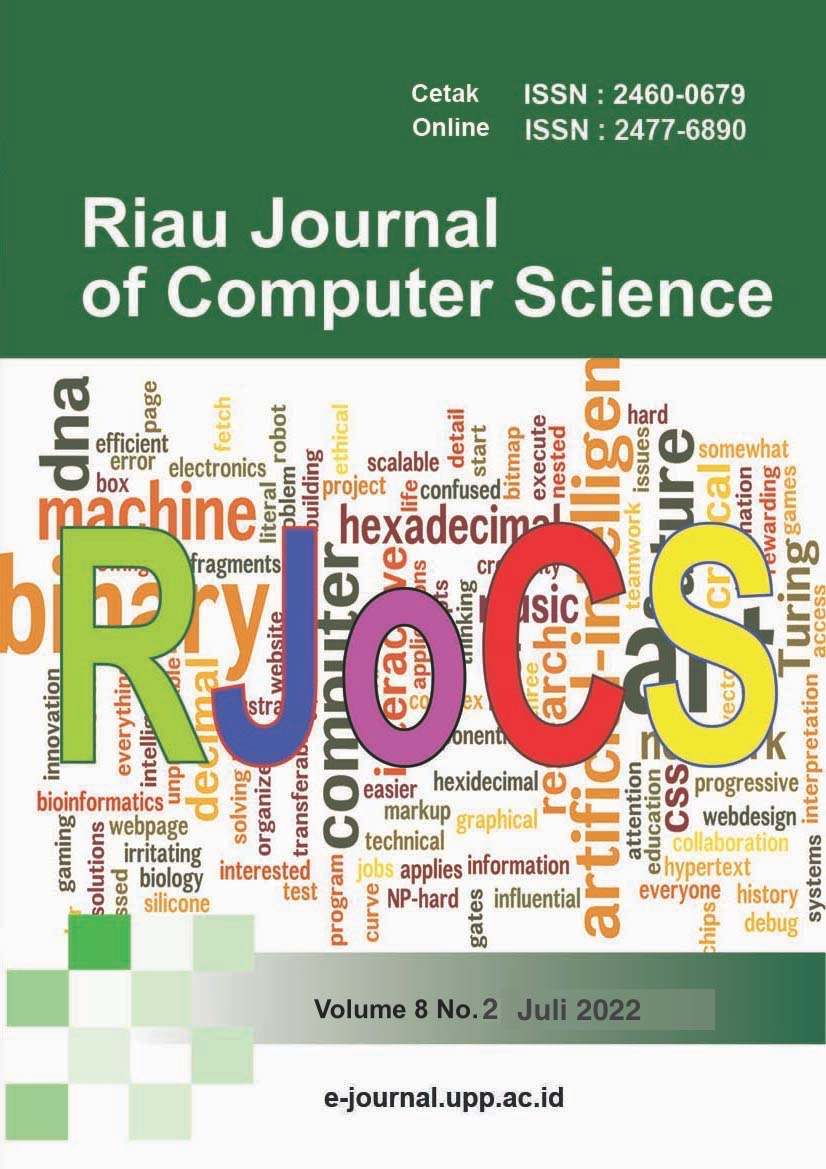 Downloads
How to Cite
[1]
N. S. A. Niko, "IMPLEMENTASI METODE LEVENSTHEIN DISTANCE DAN COSINE SIMILARITY UNTUK DETEKSI KEMIRIPAN GAMBAR", RJOCS , vol. 8, no. 2, pp. 85–93, Jul. 2022.