Aplikasi Surat Keterangan Permohonan Pendamping Ijazah
Keywords:
Akses, Data, Surat keterangan permohonan pendamping ijazah, Online,
Abstract
Surat Keterangan Pendamping Ijazah (SKPI) mempunyai tujuan untuk meningkatkan transparansi kualifikasi akademik dan profesi yang dihasilkan oleh perguruan tinggi yang yang diuraikan dalam bentuk narasi deskriptif yang menyatakan capaian pembelajaran lulusan pada jenjang Kerangka Kualifikasi Nasional Indonesia (KKNI) maka sejak Agustus 2014, berdasarkan Permendikbud No. 73 Tahun 2013, Permendikbud No. 49 Tahun 2014, dan Permendikbud No. 81 Tahun 2014. kualifikasi akademik dan profesi untuk kampus sebagai implemtasi langsung untuk pengembangan mutu pada perguruan tinggi maka di perlukan suatu sistem untuk penerbitan SKPI pada peguruan tinggi untuk akses langsung oleh mahasiswa secara online dan bisa dilengkapi secara langsung, dimana dengan kemajuan teknologi saat ini maka di perlukannya suatu sistem yang mempermudah proses tersebut dari pihak perguruan tinggi dan mahasiswa lulusan untuk mendapatkan penerbitan SKPI lebih mudah dan bisa mengakses aplikasi surat keterangan permohonan pendamping ijazah menjadi dua arah secara langsung yang mana data bisa diupadate secara online dan memiliki penyimpanan data yang terorganisir
Downloads
Download data is not yet available.
References
R. Indonesia, "Peraturan Presiden Nomo 8 Tahun 2012 Tentang Kerangka Kualifikasi Nasional Indonesia," 2012.
R. Indonesia, "UNDANG-UNDANG REPUBLIK INDONESIA NOMOR 20 TAHUN 2003 TENTANG SISTEM PENDIDIKAN NASIONAL," Rec. Manag. J., vol. 1, no. 2, pp. 1–15, 2003, [Online].
R. Indonesia, "PERATURAN MENTERI PENDIDIKAN DAN KEBUDAYAAN REPUBLIK INDONESIA NOMOR 73 TAHUN 2013," pp. 1–6, 2013, [Online]. Available: http://jdih.kemenperin.go.id.
S. D. Putra, S. Sukarno, and D. Aryani, "PERANCANGAN SISTEM DOKUMENTASI ELEKTRONIK SISTEM PENJAMINAN MUTU INTERNAL MENGGUNAKAN METODE RAPID APPLICATION DEVELOPMENT," J. Inf. Syst. Informatics Comput., vol. 5, no. 1, 2021, doi: 10.52362/jisicom.v5i1.467.
Z. Zulhalim, A. Z. Sianipar, and E. Witono, "PERANCANGAN APLIKASI SURAT KETERANGAN PENDAMPING IJAZAH BERBASIS WEB PADA STMIK JAYAKARTA," J. Inf. Syst. Informatics Comput., vol. 4, no. 2, 2020, doi: 10.52362/jisicom.v4i2.316.
B. Yanto and R. P. Sari, "Elektronik Pembelajaran Semester (E-RPS) Berbasis Web Fakultas Ilmu Komputer Universitas Pasir Pengaraian," Riau J. Comput. Sci., vol. 05, no. 02, 2019.
J. Lee, S. Ahn, H. Kim, and J. R. Lee, "Dynamic hyperparameter allocation under time constraints for automated machine learning," Intell. Autom. Soft Comput., vol. 31, no. 1, 2022, doi: 10.32604/IASC.2022.018558.
V. Raghupathy, O. I. Khalaf, C. A. T. Romero, S. Sengan, and D. K. Sharma, "Interactive middleware services for Heterogeneous systems," Comput. Syst. Sci. Eng., vol. 41, no. 3, 2022, doi: 10.32604/csse.2022.021997.
C. Goeury, Y. Audouin, and F. Zaoui, "Interoperability and computational framework for simulating open channel hydraulics: Application to sensitivity analysis and calibration of Gironde Estuary model," Environ. Model. Softw., vol. 148, 2022, doi: 10.1016/j.envsoft.2021.105243.
B. Yanto and A. S. Putra, "Sistem Informasi Buku Tamu Front End Berbasis Android Pada Badan Pusat Statistik Rokan Hulu," J. Comput. Sci., vol. 4, no. 1, 2017.
R. A. Sukamto and M. Shalahuddin, Rekayasa Perangkat Lunak (Edisi Revi). 2018.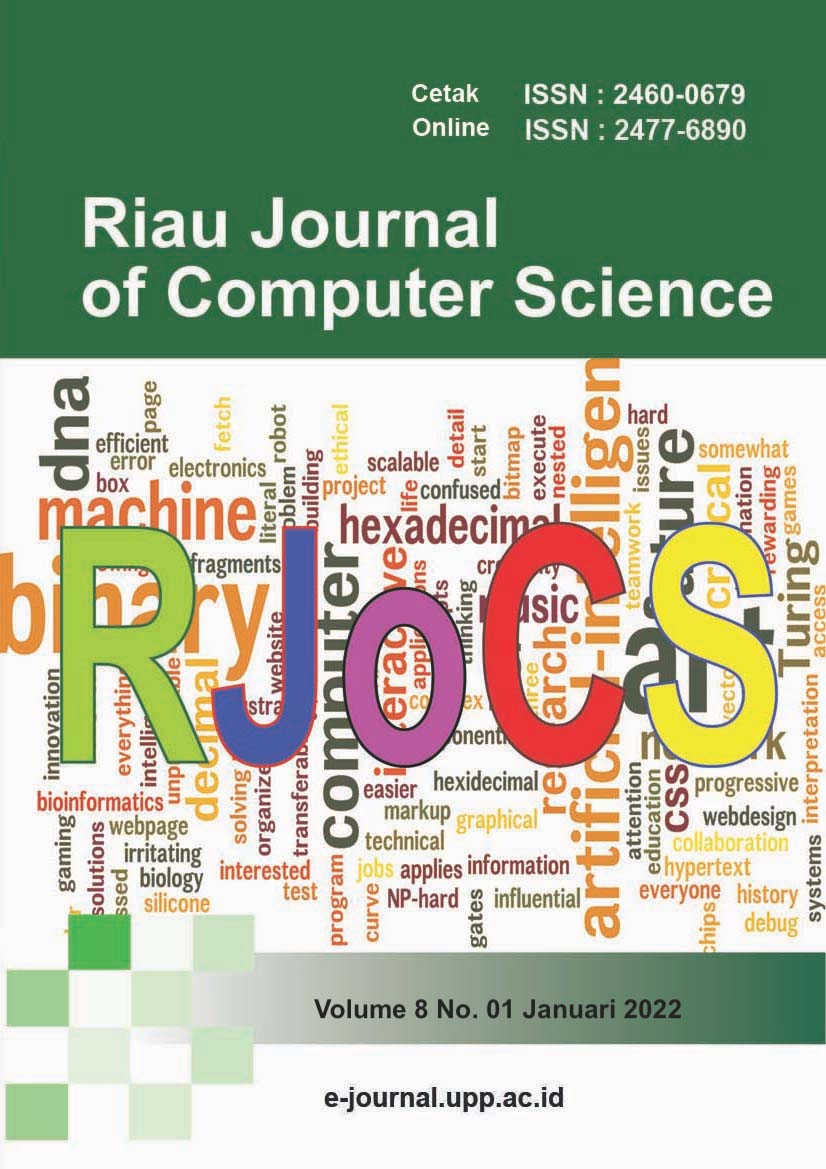 Downloads