PENGARUH LATIHAN DRILLTERHADAP KETEPATAN SMASH BULU TANGKIS SISWA DISEKOLAH MENENGAH PERTAMANEGERI 4 RAMBAH SAMO
Keywords:
drill practice, smash accuracy
Abstract
This research started from the observations of researchers in the field who saw that the badminton smashes of SMPN 4 Rambah Samo students were still lacking. For this reason, this study aims to determine the effect of drill practice as an independent variable (X) on smash accuracy as the dependent variable (Y).
This study uses an experimental method with a One-Group Pretest-Postest Design. The sampling technique used purposive sampling, so that the number of samples consisted of 20 men. The research design used Pre-test and Post-test using a smash accuracy test instrument to determine the results of students' smash accuracy. Data analysis and research hypothesis testing used independent t-test (t-test) analysis techniques with a significant level of = 0.05.
The results showed that Drill Practice had an effect on the accuracy of students' smash with an average score of 19.2 in the Pre-test increasing to 40 in the Post-test. With statistical results show that (tcount 46.511> t table 1.739). The conclusion of this study is that drill drills have an effect on the accuracy of the smash on the students of SMPN 4 Rambah Samo
Downloads
Download data is not yet available.
References
Manurizal & Fitriana. (2019). Pengaruh Metode Latihan Guided Discovery Dan Metode Series Of Play Terhadap Kemampan Servis Atlet Bola Voli Putri Rokan Hulu. Jurnal Penjaskesrek. 6.(2). 260.
Pambudi & Sulendro.(2021). Pengaruh Latihan Drill Servis Terhadap Ketepatan Servis Samping Olahraga Sepak Takraw PSTI Panggul Trenggalek. Jurnal Ilmu Olahraga. 2(2). 174.
Riza Indra Dwijaya, Galih Dwi Pradipta, Setiyawan. (2020). Pengaruh Metode Latihan Drill Terhadap Ketepatan Pukulan Backhand Clear Pada Siswa Ekstrakurikuler Bulutangkis SMK Negri 3 Jepara. Journal Physical Activity and Sport, 1(1). 101.
Sugiyono.(2019). Metode Penelitian Pendidikan Pendekatan Kuantitatif, Kualitatif, dan R&D. Bandung. Alfabeta
Suhardianto.(2021). Peningkatan Belajar Servis Backhand Dalam Permainan Bulu Tangkis Melalui Metode Inquiry Pada Siswa SMP Negeri 4 Ponrang Kabupaten Luwu.Jurnal Of Physical Activity. 1 (1).3-6.
Undang – undang Republik Indinesia Nomor 3 Tahun (2005) tentang System Keolahragaan Nasional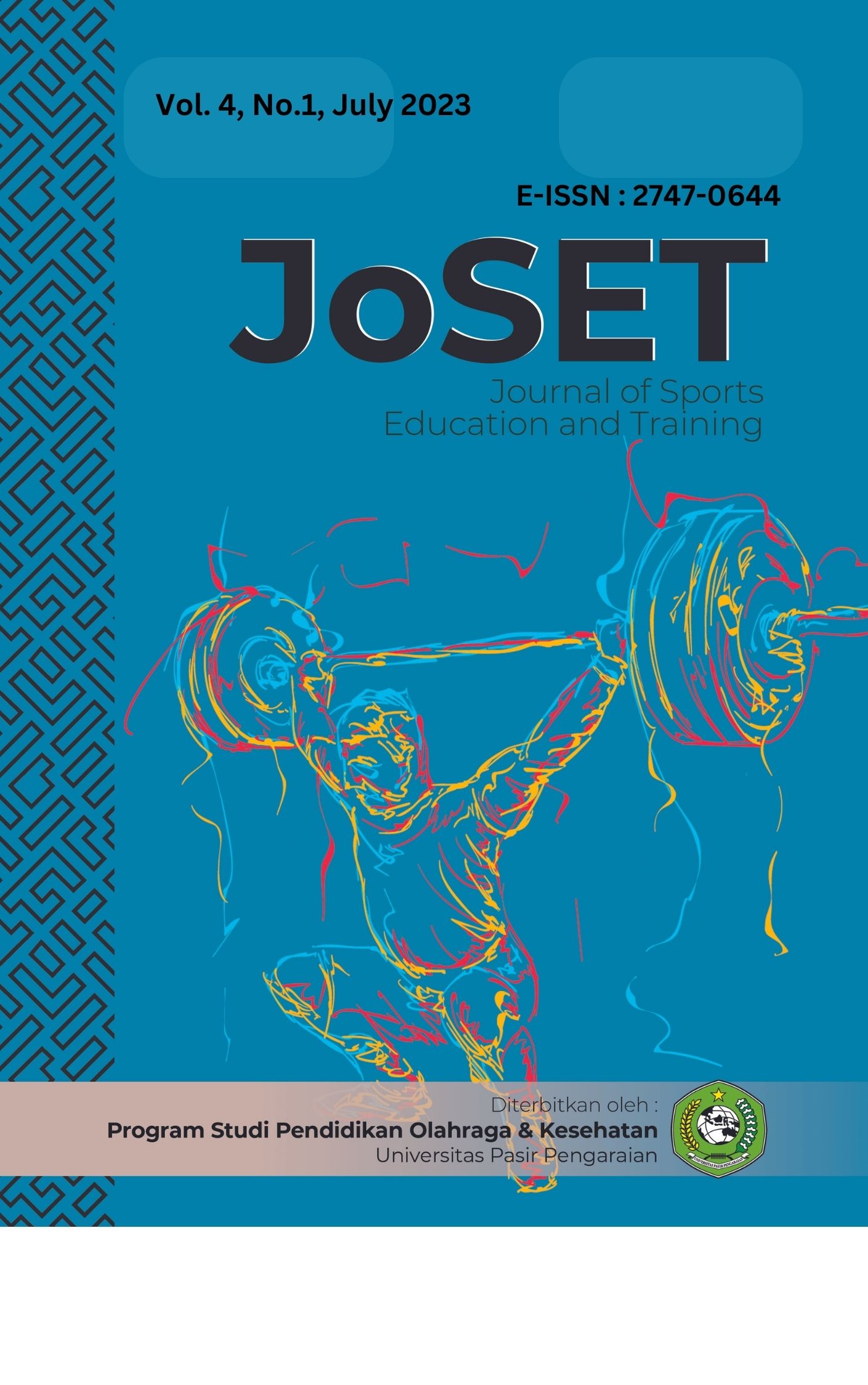 Downloads
How to Cite
Manurizal, L. (2023). PENGARUH LATIHAN DRILLTERHADAP KETEPATAN SMASH BULU TANGKIS SISWA DISEKOLAH MENENGAH PERTAMANEGERI 4 RAMBAH SAMO. Journal Of Sport Education and Training, 4(1), 25–29. Retrieved from https://journal.upp.ac.id/index.php/joset/article/view/1990